I'm still new to the 1981 Mustang and the previous owner I got it from wasn't completely familiar with the dashboard either (though he explained some controls to me out of trial and error but I forgot about a few now). I couldn't acquire a manual yet so I have some questions about the headlights switch and other lights:
How do I turn these on? (pic)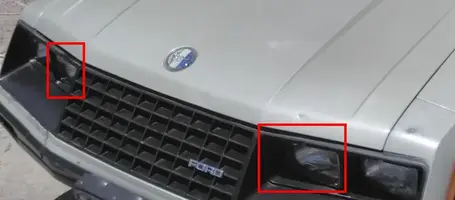 Pulling the switch backwards once turns the other headlights on, pulling it backwards a second time makes them brighter (I think), but Idk how to turn on those in the middle. I'm almost sure I've seen them turned on when I test drove the car before buying it though.
Also I noticed that rotating the headlights switch makes the dashboard light more or less bright. Does that also affect headlights or just the dashboard? And do I need to rotate it back into place in order to make sure the dashboard light (or some other light) is properly turned off? Or if I just press the switch (twice) back to the original position I make sure all lights are off?
Does anything happen if I press the headlights switch further forwards when it's on the default position? (I didn't try it in case I accidentally break it or something)
Just out of curiosity, is there a way to disable the ceiling light that turns on when I open the door? And where's the switch to turn that light on when the doors are closed?
When I got the car it already had some extra lights on the front and rear bumpers (those have their own custom switch, though) so I'm not sure if other things like these have been modified, apparently not.
Thanks in advance!
Last edited: