My dad had a bra
SN Certified Technician
Sep 5, 2001
4,529
1,245
214
For Sale vid (made for someone asking about it):
https://www.youtube.com/watch?v=irMurOIOEyE&feature=youtu.be
320 HP Fox Mustang Convertible with $6k in aftermarket parts. Synthetic oil. Garaged. Idles, runs, drives, shifts perfect. Sounds incredible! Will drive long-distance, no problem.
168k miles. No smoke. No miss. No stumble. Have added 1k miles since originally listed.
Bought in California. Last owner passed emissions with all performance parts in 2017. I am military and so it is registered, like all of my cars, in Florida. I drive it every pretty day. Selling because I must move in 4 months.
Paint is in 8/10 with minor hazing but still shiny and clean. Stripes are paint (not stickers).
Love fox bodies and I hope I've made it nice enough that the next guy will love it, too. -Chris
Build:
Exterior:
- Cobra R hood
- New Bridgestone RE11 Summer performance tires
- New LMR tail pipes (stainless = will not rust)
Engine:
- SVO GT40X aluminum heads (best stock replacement Ford heads)
- Edelbrock Performer intake
- aftermarket roller rockers
- E303 cam
- BBK Shorty headers
- 75mm MAF
- Edelbrock 65mm TB
- K&N air filter. Can include conical filter, too. I prefer K&N
- 40-series flowmasters
- New (3 months old) shiny stainless LMR tail pipes
Drivetrain
- short shifter w/ positive stops. Tri-ax, I believe.
- Ford Racing Aluminum Driveshaft
Suspension Chassis
- Adjustable rear shocks, aftermarket front shocks
- Welded subframe connectors
- Gripp Strut tower brace
- Gripp caster/camber plates
- Drilled front rotors
- Removed quad shocks, but stock LCAs, didn't get under car to check uppers. (going to replace quads before sale)
Electrical
- aftermarket coil
- MSD Cap and Rotor
Interior:
- Clean black interior
- Aftermarket seats 5-pt harness ready - Aftermarket Stereo head unit with USB port & Bluetooth
Notes:
- electrical top in excellent condition - recently replaced.
- electric windows and locks work
- Tires are almost new with about 1k miles
- No check engine light.
- Heat works.
- Clean Title - clean carfax.
All sales are local in Seaside. Public meeting locations only. Cash or bank cleared transfer before you get the car/title. Clean title (with Carfax) in hand. I do not need help selling. Firm on price (really). Not OBO.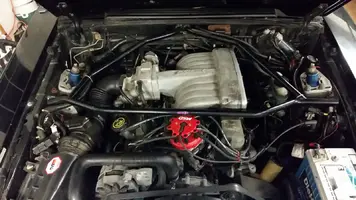 Last edited: